Tara is having a fun linky!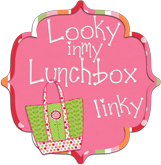 (don't you LOVE 3AM's art skills??)
Since I'm on Spring Break, I can't show you what's inside my box, but it's usually left overs - I love eating leftovers for lunch!!
But I want to show you ALL our boxes...I have a thing for lunch boxes, I'm not sure why...lol. But each year for Christmas, A (and B will too) gets a new lunch box.
Here is the box A used to use....yep - it's a tin lunch box!! woop woop to old school!
Here's mine....it's a 31 bag...
And here are A's and B's lunchboxes they use (for NOW)...yes, B needs one - I have to get her "milk in a bag" over to the babysitter's, don't I? lol
They were a special I found on Totsy..yay!!
Now go on ever to Tara's and LINK up!!
On a side note...LOOK what I found on FB!!
Click the pic to go check it out!
So if you still want one for this year, get it now!!!
I LOVE mine!! It comes with me EVERYWHERE! I write notes in it ALL day long - and all my "appointments" and my hub's work schedule.
I can't wait until the new ones come out!!
OH! I also uploaded my Spring Fry Phrases...
They're a lot like my "Doctor" Fry Phrases...and those are one of my best sellers, so I thought "you" might want a Spring version...
You can use them as flashcards or there is a "You Got Rained On!" game.
You get all "600" (there aren't REALLY 600 phrases, it's weird, I know - BUT, I DO have them all!).
Each set uses a different picture so you can keep them organized better. And there is a page of directions included in the zip file.
They're only $1
or
And if you missed my
earlier post,
check it out!! I finished my Laura Numeroff unit!!
Ok....see ya'll luego!!