It was #teachertalktuesday on Instagram!
Did you see all the awesome pictures being posted by everyone!?! Make sure you look it up! SO many great pictures and ideas!!
Here are a few pictures I posted on my instagram....
This is me laminating recording sheets....do you do this??? I only print up 5 recording sheets for each center, laminate, and we're good to go! I've also used plastic sleeves, but this tends to last more, because smudges always seem to go inside the sleeves....somehow!
This is a little diddy I made today...
I made this on my planning period today and had someone on Instagram asked if I had this posted somewhere - ask and ye shall receive!
Click the pic to download the freebie
Another picture series I posted today was about our grammar lesson... we went on a word hunt during our silent reading time....they found sentences with suffixes on them and wrote them on sticky notes.
Then we sorted them on our tree map....
(and yes, that is a REAL chalkboard - kickin' it #oldschool!)
Don't ya just love
Caitlin's Letters
?! I use them for EVERYTHING! Today, they were my tree map header.
Make sure you head on over there to download your
free calendar cards
! Just click through my photos to get to this picture and the link is in the comments - There is also April and March in there if you want those!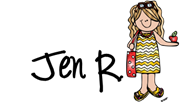 6