Ok, my friends...
I'm sure you've all seen Reagan's visual lesson plans that she got from Deedee....
Well....
A few of us decided to give it a try too!
Plus, this might help me to be better planned out and ready for Mondays - ha!
Well...
Most of my plans come from other fabulous bloggers out there! I've found so many fabulous things, that this week, I decided not to make a unit, just little things here and there, which I've included links for...
When you click on the plans, it'll take you to the PDF, and you can click on the pictures and links to go to that product. Make sure you DOWNLOAD the document so you can get to all the links!
This isn't EVERYTHING that I do, but I didn't want to bombard you with it all at once...
For Phonics- I will be using the Phonics Poem book from scholastic - LOVE it! And it's really helping with fluency.
We'll also be doing some activities with Room on the Broom - click the pics in the plans to grab the freebies!
And I'll be doing Christie's unit for Scaredy-Cat, Splat!
For my centers this week - I've got a little something from everyone in there - LOVE it!
I also made a quick little compare/contrast writing activity - click the pic in the plans to grab this freebie too!
For Writing??
Starting with Lori's Halloween writing activity and then I'm doing the same book from Debbie that I did last year - except this year, I'll be teaching it instead of my intern - In fact...this is about when she took over completely, so now I get to teach during my favorite time of year - yay! Not that I didn't LOVE having her, but you know...as a teacher, there are just certain things you like to teach and October - December is my favorite time.
Remember - you can get to their products when you download the plans!
NOW...
For math and Science/Social Studies
As for my actual Whole Groups plans? I have an idea, BUT, I don't like to set in stone what I'm doing because if they don't get one of the lessons, I'm not going to move on to the next one...And this week, we're working on 2-digit plus 2-digit addition, so I'm sure it'll take longer than the series gives me to teach it.
BUT, I am going to be using my Tasty Facts packs and my Numbers Every Day pack each day!
For Science - we're going to be finishing up the LAST of the Bat unit
And we're going to be review habitats and working on my Habitats for Sale activity.
~~~~~~~~~~~~~~~~~~~~~~~~~~~~~~~~~~~~~~~~~~~~~~~~~~~~~~~
and one last thing!
My girl, Holly is having a giveaway!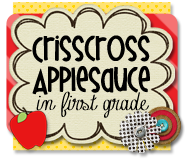 Just a few days left - so go enter and wish her happy bloggy-birthday!